Coughing up the dust of dead devotion.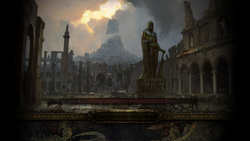 The Catacombs is an area in Act 3. This area does not have a waypoint and is connected to The Marketplace.
Similar to The Crypt Level 2, this area is a maze of rooms that ends at a large bridge. In rooms with bottomless pits, Ink Spinners will climb up from the darkness and attack players. Monsters deal primarily cold damage and necromancers use the curse
FrostbiteFrostbiteSpell, AoE, Duration, Cold, Curse, Hex
Level: (1-20)
Cost: (24-50) Mana
Cast Time: 0.50 sec
Radius: 22Requires Level 24Curses all targets in an area, lowering their cold resistance and giving them a chance to be frozen when hit.Per 1% Quality:1Superior2Anomalous3DivergentFreezes on Cursed enemies have 1% increased DurationCurses inflicted by this Skill have +0.25 to maximum DoomHits against Cursed Enemies have +1% chance to FreezeBase duration is (9-10.9) seconds
Cursed enemies have -(25-44)% to Cold Resistance
Hits against Cursed Enemies have +25% chance to Freeze
Curse gains 10 Doom per second if you Cast this Spell yourself
+(0-10) to radiusPlace into an item socket of the right colour to gain this skill. Right click to remove from a socket.

, so high cold resistance is strongly recommended.
A Trial of Ascendancy can be found here.
Monsters
Items found in this area
Lore
Version history
| Version | Changes |
| --- | --- |
| 3.0.0 | The layout of The Marketplace and Catacombs in Act 3 have been modified to fit the new Warehouses-less structure. |
| 2.2.0 | Added Trial of Ascendancy. |
| 0.10.0 | |