The Cathedral Rooftop
area
From above, the true scope of carnage is clearly espied.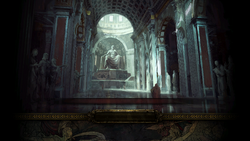 The Cathedral Rooftop (Act 10) is an area in Act 10. It is connected to Oriath Docks and The Ravaged Square. Vaal side area Side Chapel has a chance to spawn.
NPCs
Quests
Monsters
Cathedral Apex:
Feast attendant

Kitava's herald
The Cathedral Rooftop:
Desecrated Thrall

Twisted Effigy

Kitava's Herald
Items found in this area
There are currently no items that have a drop table specific to this area.
Lore
Version history
| Version | Changes |
| --- | --- |
| 3.0.0 | |