Stalactites drip in mourning for an ocean queen.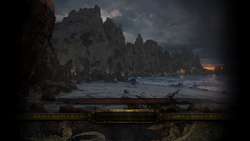 The Cavern of Anger is an area in Act 6. This area does not have a waypoint and is connected to The Southern Forest and The Beacon.
The area contains a locked door leading to the Coral Hideout. This can be unlocked by a nearby switch (however, unlike Labyrinth levers, this will not be marked on the minimap).
Monsters
Items found in this area
Item
Lantador's Lost Love

Lantador's Lost Love

7

Two-Stone RingThey fought the storm together as one,
Until the longest of days was done.
Their love grew stronger
with every breath,
Until it was broken apart in death.
1
The Wrath

The Wrath

8

10x Chaos Orb

"Daughter of catastrophe, mother of pain. Amongst the filth of Wraeclast, she wanders, and her wrath follows." - Quintoon the Returned

1
The Siren

The Siren

7

The Whispering Ice
CorruptedAt the beck and call
of The Siren's hand,
winter ravages
the trembling land,
and the weight of ice that binds
will break the strongest of minds.
1
Glimmer of Hope

Glimmer of Hope

8

Gold Ring

When you dwell in total darkness, even the faintest light may guide you out.

1
Treasure Hunter

Treasure Hunter

7

Vaults of Atziri
Corrupted"Don't worry, I know what I'm doing."
- Toggo's Last Words
1
The Fathomless Depths

The Fathomless Depths

8

Lightpoacher

Fall into endless night; a voyage into an ocean of oblivion.

1
Version history
| Version | Changes |
| --- | --- |
| 3.0.0 | |