The air needles the skin with its frigid fury.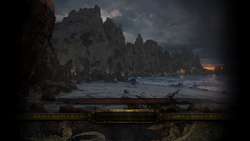 The Cavern of Wrath is an area in Act 1. This area has a waypoint (known as Merveil's Caverns in the UI) and is connected to The Ship Graveyard and The Cavern of Anger.
Entering this area starts the quest The Siren's Cadence, and Nessa will give you a support gem to help kill Merveil. The waypoint in this area is located by the entrance from the Ship Graveyard. A maze of bridges and caves leads to the Cavern of Wrath exit in the upper right.
Quests
Monsters
Native monsters resist cold or chaos, and deal physical, cold and lightning damage. They can apply physical damage over time.
Guests:
Items found in this area
There are currently no items that have a drop table specific to this area.
Lore
Soundtrack
Version history
Version
Changes
2.0.2

Added the Sailor Skin lore object to the Cavern of Wrath.

2.0.0

Zone levels changed from 14/39/55 to 12/43/58 due to 2.0 progression balancing.
The Coves zone has been removed.
Cavern of Wrath is now connected to the The Ship Graveyard.

0.9.11

Area renamed from Cavern of Woe to Cavern of Wrath.