Two thousand years of regret.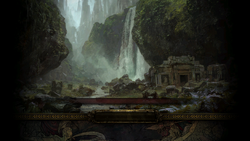 The Caverns is an area in Act 2. This area has a waypoint and is connected to The Northern Forest and The Ancient Pyramid.
There are two sections to this zone. The first is a linear cavern that occasionally branches off into smaller caves. The area then changes as you enter the base of the Ancient Pyramid. The waypoint is located at the mid-way point between these sections.
Monsters
Pyramid:
Items found in this area
There are currently no items that have a drop table specific to this area.
Version history