The Chamber of Sins Level 1
area

Phantom whispers of maniacal passion.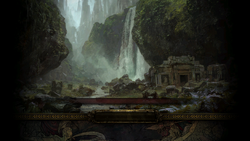 The Chamber of Sins Level 1 is an area in Act 2. This area has a waypoint and is connected to The Crossroads (northwestern exit) and The Chamber of Sins Level 2.
The layout is a decrepit maze of rooms and hallways. While many are blocked, the halls lead into a lofty atrium at the centre of the area, containing an old reverie device. Past the atrium is a small room connecting two crossed corridors, and each of the four exits off this room points generally in the direction of a potential stairway location. The stairway down to the next level spawns at one of these locations.
Monsters
Guests:
Items found in this area
Item
The Summoner

The Summoner

6

Superior Minion Gem


Quality:

+20%

To own a piece of the Nightmare, you must first belong to the Nightmare.

1
Lore
Inquisitor,

If you attempt to transmogrify a virtue gem without the proper mental preparation, you will be a puppet master working strings made of vipers. Remember, these gems are phantasms in crystalline form, alive, with volitions inscrutable. Master conscious dreaming, as I instructed you. Your death would mean little to me, Maligaro. It's what your demise could unleash that concerns me.

Malachai
Version history
Version
Changes
3.0.0

The Waypoint in Chamber of Sins Level 2 has been moved to Chamber of Sins Level 1.

2.0.0

Plague Retch has moved out of Chamber of Sins Level 1 and has been replaced by Black Death. We wish Plagueretch all the best on wherever his new journey takes him.
Zone levels changed from 19/43/58 to 16/46/61 due to 2.0 progression balancing.