The Chamber of Sins Level 2
area

Decrepit ruins born again. A lusting evil stalks its halls.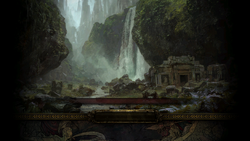 The Chamber of Sins Level 2 is an area in Act 7. This area does not have a waypoint and is connected to The Chamber of Sins Level 1 and The Den.
The area is laid out like its Act 2 counterpart, with a number of walkways above chasmic depths. The Trial of Ascendancy and Baleful hideout are also located randomly in the area. Finally, to the edge of the area lies the same set piece room as where the Transmutia device was originally located (before it was removed by Helena). Within this part of the map lies the exit to the Den, hidden behind stone panels (near where Piety addressed the exile in the same act).
Quests
Monsters
Augmented Dead

Undying Subject
Items found in this area
Item
The Dark Mage

The Dark Mage

6

Six-Link Staff


Item Level:

55

With staff in hand
and wrath in heart,
your soul and corpse
shall surely part.
1
The Surgeon

The Surgeon

4

Surgeon's Flask"He might be lacking in vision, but his virtuosity is undeniable."
- Malachai, on Maligaro
1
Shard of Fate

Shard of Fate

4

Vivid JewelTheir whims left unknown,
Their life left for others.
1
Emperor of Purity

Emperor of Purity

7

Six-Link Holy Chainmail


Item Level:

60

True to his title,
Voll, newly crowned,
had many of the
Eternal Empire's signature
extravagances destroyed.
1
The Garish Power

The Garish Power

4

Jewel

Maligaro may have valued function over form, but that did not mute his flair for the dramatic.

1
Lore
Trivia
The area does not have its own node on the act map, instead sharing one node with The Chamber of Sins Level 1.
Version history
| Version | Changes |
| --- | --- |
| 3.0.0 | |