A harsh light on harsh sights.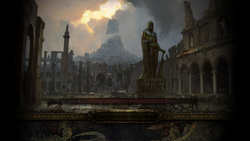 The City of Sarn is the first area in Act 3. This area contains a waypoint and is connected to Sarn Encampment and Ancient Pyramid.
After killing the Vaal Oversoul, players enter the city of Sarn through a door at the top of the Vaal pyramid. The exit is one-way and players cannot return to the Ancient Pyramid. The town of Act 3 is northwest of the waypoint, with water on the left and ruined houses on the right. Here you can find Clarissa in an open area guarded by the Ebony Legion.
Quests
Monsters
Guests:
Items found in this area
Item
The Carrion Crow

The Carrion Crow

4

Life ArmourFrom death, life.
From life, death.
The wheel turns,
and the corbies wheel overhead.
1
Version history