The cliffs echo the hungry madness.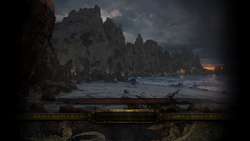 The Coast is an area in Act 1. This area has a waypoint and is connected to Lioneye's Watch, The Tidal Island, and The Mud Flats.
Players fight from the Lioneye's Watch entrance on the left side of the map to the Mud Flats exit on the right or bottom. The Tidal Island is in the water near near the Mud Flats. The hills contain cannibals and spitters, while the beaches are filled with zombies.
Instead of chests this area has Impaled Corpses, Bound Corpses, and Crucified Corpses.
Monsters
Native monsters in this area resist cold or lightning, and use physical or fire attacks, and fire damage over time.
Guests:
Items found in this area
There are currently no items that have a drop table specific to this area.
Soundtrack
Version history
Version
Changes
2.3.0

Cannibal Fire-eater has been added to The Coast. This monster breathes fire.

2.0.0

The Waypoint in The Mud Flats has been moved to The Coast.
Zone levels changed from 2/35/52 to 2/40/56 due to 2.0 zone progression balancing.

1.0.0

Some world areas have been renamed.
(Not in patch note) Renamed from "Terraces" to The Coast.

Unknown

Introduced to the game. (The area existed at least at the start of open beta (version 0.10.0) and probably existed in alpha and closed beta.)