The Ancestors return to conquer these shores once again.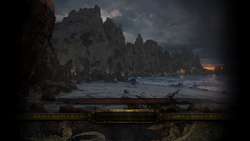 The Coast is an area in Act 6. This area has a waypoint and is connected to Lioneye's Watch, The Tidal Island, and The Mud Flats.
The layout is largely the same as The Coast (Act 1), but the Act 6 variant is daytime.
Monsters
Items found in this area
Item
The Metalsmith's Gift

The Metalsmith's Gift

6

Prismatic Ring

A month's work, a year's wages, a foolish shortcut through a Rhoa's nest, and a grieving bride-to-be, who never received her betrothed's great gift.

1
Lantador's Lost Love

Lantador's Lost Love

7

Two-Stone RingThey fought the storm together as one,
Until the longest of days was done.
Their love grew stronger
with every breath,
Until it was broken apart in death.
1
Pride Before the Fall

Pride Before the Fall

8

Kaom's Heart
CorruptedAs Kaom slew the last of his kin,
something deep inside him broke.
And through the cracks, corruption,
pure and black, spread forth.
1
Version history
| Version | Changes |
| --- | --- |
| 3.0.0 | |