The illusion of control is swiftly severed by the blade of reality.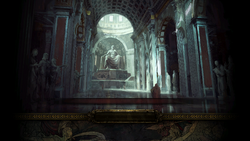 The Control Blocks is an area in Act 5. This area does not have a waypoint and is connected to Overseer's Tower and Oriath Square. After the player defeats High Templar Avarius, the exit to Oriath Square becomes inaccessible.
An Experimental Supplies chest spawns near the left border of the area and contains the Miasmeter.
Monsters
Justicar Casticus (unique Oriath Enforcer)

Slave Catcher

Oriath Enforcer

Indoctrinated Slave

Karui Rebel

(friendly)
Items found in this area
There are currently no items that have a drop table specific to this area.
Version history
| Version | Changes |
| --- | --- |
| 3.0.0 | |