Life struggles where once it bloomed.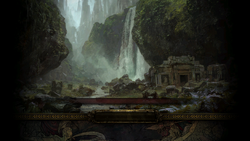 The Crossroads is an area in Act 2. This area has a waypoint and is connected to The Old Fields, The Chamber of Sins Level 1, The Broken Bridge, and The Fellshrine Ruins.
A stone road leads northeast from The Old Fields to The Broken Bridge, meeting a second road that leads southeast to The Fellshrine Ruins. The waypoint appears where the roads intersect. Another short path leads northwest from here to a cliff and Calaf, Headstaver. The entrance to The Chamber of Sins Level 1 is beyond two more cliffs.
Monsters
Guest Monsters
Items found in this area
There are currently no items that have a drop table specific to this area.
Lore
This area has the Etchings on Wood series spread around the area.
Version history
| Version | Changes |
| --- | --- |
| 2.0.2 | Added a new permanent pack of monsters (which includes a boss) to The Crossroads. |
| 2.0.0 | Zone levels changed from 17/42/57 to 15/46/60 due to 2.0 progression balancing. |
| Unknown | Introduced to the game. (The area existed before the start of open beta (version 0.10.0).) |