Ancestral memories given life, then soured.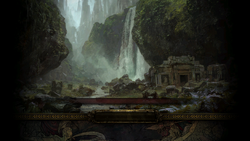 The Crypt is an area in Act 7. This area has a waypoint and is connected to The Fellshrine Ruins.
The area is much simplified compared to its Act 2 counterpart. A Trial of Ascendancy is present on the upper level, and a sarcophagus hides stairs leading to a lower level containing written archives, and most importantly Maligaro's Map.
Quests
Monsters
Items found in this area
Item
The Celestial Justicar

The Celestial Justicar

6

Six-Link Astral Plate

Wrapped in the glory of the heavens, she comes to mete out justice for the fallen.

1
Maligaro's Map

Maligaro's Map

"Certain maps can only be rendered in the most vivid of viscera."
- Inquisitor Maligaro
1
Rebirth

Rebirth

27

Charan's SwordHe shattered Her smile
Scattered the fragments like ash
All she did was laugh
1
Lore
Version history
| Version | Changes |
| --- | --- |
| 3.0.0 | |