Stones worn smooth by centuries of devotion.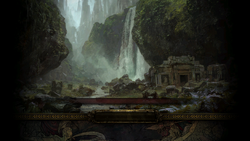 The Crypt Level 2 is an optional area in Act 2. This area does not have a waypoint and is connected to The Crypt Level 1.
The stairs lead to another maze of rooms, similar to the previous level. One room has a large bridge that leads to an altar with the quest item
Golden HandGolden HandAn open palm raised in peace,
cut down by the slaves of war.
. Killing Archbishop Geofri is not required to complete the quest.
Quests
Monsters
Guest Monsters:
Items found in this area
Item
The Summoner

The Summoner

6

Superior Minion Gem


Quality:

+20%

To own a piece of the Nightmare, you must first belong to the Nightmare.

1
Version history
| Version | Changes |
| --- | --- |
| 3.0.0 | Removed the Cruel and Merciless difficulty levels. |
| 2.0.0 | Zone levels changed from 22/44/61 to 18/47/61 due to 2.0 progression balancing. |
| 1.0.0 | Renamed from Church Dungeon Level 2 to The Crypt Level 2 |
| 0.9.5 | Enabled the "Golden Hand" quest in the Church Dungeon. This currently gives two skill respec points per difficulty as its reward, but this will change in the future. |
| 0.9.3 | Performed an overhaul of Act Two quests. Added the new bandit quests and quests in the Weaver's Chambers, Church Dungeon and Chamber of Sins. |
| Unknown | |