Gifts of the Beast, awaiting plunder.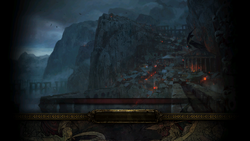 The Crystal Veins is an area in Act 4. It has a waypoint and is connected to The Mines Level 2, Daresso's Dream, Kaom's Dream, and The Belly of the Beast Level 1.
As in the two Mines levels, your character once again comments on a mine-shaking rumble when you first enter. The lone unique monster, The Burning Man, explodes on death dealing a significant amount of damage that may be enough to one-shot the player, especially if using mainly evasion-based gear.
Monsters
Prophecies
The Crystal Veins is the destination of
The Plaguemaw VThe Plaguemaw VA room, etched in crystal, plays home to the Plaguemaw. He awaits you.You will enter the Plaguemaw's chamber in the Crystal Veins or Crystal Ore Map.Right-click to add this prophecy to your character.Seal Cost:
9x
Silver Coin
prophecy
Items found in this area
Item
Volatile Power

Volatile Power

9

Superior Vaal Gem


Quality:

+20%


Corrupted

Unlimited power is apt to corrupt the minds of those who possess it.

1
The Endurance

The Endurance

4

Vivid Crimson JewelCrimson rubies, drops of vigour,
flowing through my veins,
flesh like coal, try to crush me,
diamond is what remains.
1
The Jeweller's Boon

The Jeweller's Boon

5

The Jeweller's Touch

The jeweller's true talent is the capacity to see a jewel's beauty before they draw it out.

1
Version history
| Version | Changes |
| --- | --- |
| 3.0.0 | Removed the Cruel and Merciless difficulty levels. Path of Exile is now a single ten-act playthrough. |