Hot and sour as the panting of a rabid bear.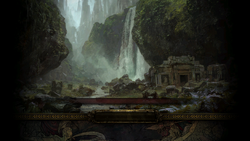 The Den is an optional area in Act 2. This area does not have a waypoint and is connected to The Old Fields.
A branching maze of tunnels ends at a large chamber. After killing the Great White Beast, an exit on the back wall leads to a random location in the Old Fields.
Quests
Monsters
Items found in this area
There are currently no items that have a drop table specific to this area.
Version history
| Version | Changes |
| --- | --- |
| 2.0.0 | Zone levels changed from 17/43/61 to 15/46/60 due to 2.0 progression balancing. |
| 0.9.5 | Added two new world areas, currently called the "Ancient Pyramid" and the "Old Fields Cave". |