Unfettered nature. Unchained ferocity.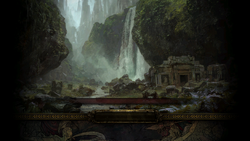 The Dread Thicket is an optional area in Act 2. This area does not have a waypoint and is connected to The Northern Forest.
Where there aren't vines, the ground is covered with shrubs and tall grass. A narrow path winds through the area with frequent branching then opens up into a large area where two unique apes spawn.
An entrance to the Lush Hideout can be found here.
Monsters
Items found in this area
There are currently no items that have a drop table specific to this area.
Trivia
The 2.0.0 patch notes for The Dread Thicket mention that "The Dread Thicket is now always 50%". This is a reference to a satirical patch notes post[1] Chris Wilson made. These patch notes used a "Markov Chain text generator" which is an algorithm that tries to create legible sentences from an input set. One of these was the above sentence which caught on and was used as a reference to this in the actual 2.0.0 patch notes.
Version history
References