The Forest Encampment
Town area

A remnant of civility in the wild.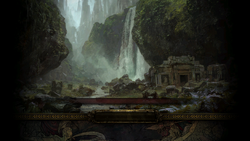 The Forest Encampment is the town for Act 2 and is connected to The Southern Forest, The Riverways, and The Old Fields. Like all towns, it has a Stash, Noticeboard, and Waypoint.
The encampment is built on a stone dam at the southern edge of Lake Constance, and is home to several exiles and natives of Wraeclast.
NPCs
Quests
Items found in this area
There are currently no items that have a drop table specific to this area.
Version history
| Version | Changes |
| --- | --- |
| 3.0.0 | Removed the Cruel and Merciless difficulty levels. Path of Exile is now a single ten-act playthrough. |
| 1.3.0g | Events Noticeboards have been added to the Forest Encampment and the Sarn Encampment in all difficulties. They have also been added to Lioneye's Watch, but only in Cruel and Merciless difficulties. The Events Noticeboard in the Sarn Arena Staging Area has been been updated to use the new art. These noticeboards allow you to access the Events/PvP panel. |
| Unknown | |