Walkthrough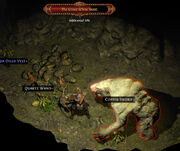 Talk to Yeena to start this quest. The Darkness must have begun, after using the Ancient Seal in the Vaal Ruins.
Yeena: A beast hunts us in her dreams. A great, white beast, tortured and maddened by bad men, a long time gone. She will come here one night, to tear, crush, and eat. Her pain tells her to. Find the white beast and end her pain, before she shares it with us.
Hunt down The Great White Beast in its Den, located in the Old Fields.
Talk to Yeena for your reward.
You have killed The Great White Beast. Talk to Yeena for a reward
Yeena: The white beast's spirit is at rest. No more pain. Take this, in thanks from me, and from the suffering animal that you have helped.
Quest Complete
Quest Complete - You have killed the The Great White Beast and been rewarded by Yeena.
Quest rewards
Class →
Witch
Shadow
Ranger
Duelist
Marauder
Templar
Scion
Quest ↓
The Great White Beast
Act 2
Chain Belt

Chain Belt

+(9-20) to maximum Energy Shield (iLvl 15)
Greater Life Flask

Greater Life Flask

Recovers 360 Life over 7.00 seconds
Consumes 10 of 32 Charges on useRequires Level 12

Right click to drink. Can only hold charges while in belt. Refills as you kill monsters.

(iLvl 15)
Greater Mana Flask

Greater Mana Flask

Recovers 120 Mana over 4.00 seconds
Consumes 9 of 36 Charges on useRequires Level 12

Right click to drink. Can only hold charges while in belt. Refills as you kill monsters.

(iLvl 15)
Heavy Belt

Heavy Belt

Requires Level 8+(25-35) to Strength (iLvl 15)
Leather Belt

Leather Belt

Requires Level 8+(25-40) to maximum Life (iLvl 15)
Quicksilver Flask

Quicksilver Flask

Lasts 4.00 Seconds
Consumes 30 of 60 Charges on use
40% increased Movement Speed

Right click to drink. Can only hold charges while in belt. Refills as you kill monsters.

(iLvl 15)
Rustic Sash

Rustic Sash

(12-24)% increased Global Physical Damage (iLvl 15)
Vendor rewards