A dark unrest sends ribbons to war.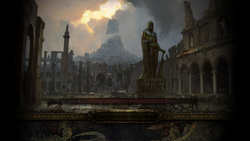 The Harbour Bridge is an area in Act 8. It is connected to the Lunaris Concourse and the Solaris Concourse. Vaal side area Stagnant Canal has a chance to spawn. After the completion of Lunar Eclipse and Solar Eclipse, the path to The Blood Aqueduct will be opened in the Sky Shrine.
Monsters with the Solaris affinity will engage monsters with the Lunaris Affinity in the middle of the area.
NPCs
Quests
Monsters
The Sky Shrine:
Solaris affinity:
Lunaris affinity:
Neutral:
Items found in this area
Item
Jack in the Box

Jack in the Box

4

ItemTurn the crank,
close your eyes,
and pray to the gods
for a pleasant surprise.
1
Cartographer's Delight

Cartographer's Delight

3

Map


Map Tier:

5

A map is similar
to a pair of eyes,
without one you stumble
around, unable to find your way.
1
Version history
| Version | Changes |
| --- | --- |
| 3.0.0 | |