Id
1_4_6_3
Act
4
Area level
40
Bosses
Doedre Darktongue
Malachai, The Nightmare
Malachai, The Nightmare
Maligaro, The Inquisitor
Shavronne of Umbra
Area type tags
sewers
Tags
indoors_area, no_divine, act_boss_area, no_tempests, area_with_water, belly_area, otherworldly_story_area, harvest_area, vile_areas
Connections
The Belly of the Beast Level 2
Highgate
Where dreams come to die.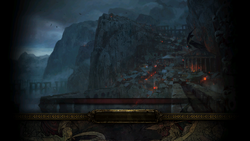 The Harvest is the final area of Act 4. It contains a waypoint and is connected to The Belly of the Beast Level 2. Its sub-area The Black Core is dedicated to the fight with Malachai, The Nightmare and can be accessed once the three other bosses have been defeated.
NPCs
Quests
Monsters
Items found in this area
Item
The Hoarder

The Hoarder

12

Exalted Orb

"More! I want more!" - Faendris, the Insatiable

1
The Hunger

The Hunger

9

Taste of Hate"How many lives have you consumed?"
"How many times have you blinked?"
1
Lore
Concept art
See also
Thaumaturgical History IV

Thaumaturgical History IV

Where the Soulless One left his physical form behind, a dangerous new threat emerges.

You will read Malachai's Dedication in The Harvest.

Right-click to add this prophecy to your character.

Seal Cost:
7x Silver Coin
Version history
| Version | Changes |
| --- | --- |
| 2.0.0 | |