The waters here, once stagnant and foul, now run clear with an ancient bloodlust.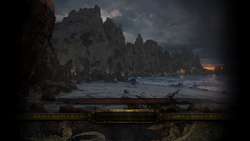 The Karui Fortress is an area in Act 6. This area does not have a waypoint and is connected to The Mud Flats and The Ridge.
The Ridge waypoint is adjacent to the exit towards the Karui Fortress, while the Mud Flats has no waypoint.
NPCs
Quests
Monsters
Items found in this area
Item
The Metalsmith's Gift

The Metalsmith's Gift

6

Prismatic Ring

A month's work, a year's wages, a foolish shortcut through a Rhoa's nest, and a grieving bride-to-be, who never received her betrothed's great gift.

1
Lantador's Lost Love

Lantador's Lost Love

7

Two-Stone RingThey fought the storm together as one,
Until the longest of days was done.
Their love grew stronger
with every breath,
Until it was broken apart in death.
1
Death

Death

4

Mon'tregul's GraspThe end of the old,
the beginning of the new.
A unique opportunity for transformation,
for those with the power
to grasp it.
1
Pride Before the Fall

Pride Before the Fall

8

Kaom's Heart
CorruptedAs Kaom slew the last of his kin,
something deep inside him broke.
And through the cracks, corruption,
pure and black, spread forth.
1
Trivia
The area is analogous to The Fetid Pool. A lake has replaced the impassable rocks previously in the center of the area, with a strip of land along both sides. The titular fort belonging to Tukohama is on an island in the middle of this lake with bridges to both sides.
Version history
| Version | Changes |
| --- | --- |
| 3.0.0 | |