Dusty winds laden with the scent of bone, old and otherwise.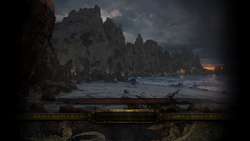 The Ledge is an area in Act 1. This area has a waypoint and is connected to The Submerged Passage and The Climb.
Kuduku spawns at the top of a hill in an open area near the Climb exit, and the waypoint is roughly in the middle of the area. Because the area is highly linear and has relatively simple enemies, the Ledge is popular for farming.
When farming The Ledge, the three cairns next to the waypoint indicate the direction in which Kuduku spawns.
The Ledge was the inspiration for the Endless Ledge race type.
Monsters
Native monsters in this area can resist fire, and deal physical, fire and lightning damage.
Guests:
Items found in this area
There are currently no items that have a drop table specific to this area.
Soundtrack
Version history
| Version | Changes |
| --- | --- |
| 2.0.0 | Zone levels changed from 7/37/53 to 6/42/56 due to 2.0 zone progression balancing. |