All the knowledge in the Empire could not save them.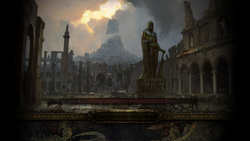 The Library is an area in Act 3. This area has a waypoint and is connected to The Imperial Gardens and The Archives.
The library is a series of large rooms with bottomless pit, where the walls are lined with books and boxes. The ghost Siosa waits near the waypoint. A loose candle in one room reveals the exit to the Archives. Throughout the library, lore-books may be found on book stands: each instance has one passage from each of Victario's Writings, The Purity Chronicles, and The Ancients.
NPCs
Quests
Monsters
Items found in this area
Item
The Scholar

The Scholar

3

40x Scroll of Wisdom

It is with the smallest of words that we find the largest of truths.

1
Hubris

Hubris

5

Ring"This one? It is NOT for sale. You would sooner pry it from my lifeless hand."
- Jonfé Darontos, Ringmaker
1
Turn the Other Cheek

Turn the Other Cheek

3

Pacifism
Corrupted"Only after one forsakes rage, can true power be found."
- Sekhema Asenath
1
A Dab of Ink

A Dab of Ink

9

The Poet's Pen

The Poet's blood is the Empire's ink.

1
Thirst for Knowledge

Thirst for Knowledge

5

GluttonyA ravenous mind can readily take in ideas from any source.
Fortunately for the scholars, he has already learned about sustainability.
1
Lore
Version history