The air is rich with despair and apparition.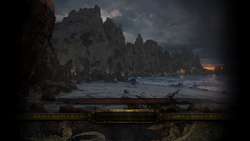 The Lower Prison is an indoor area in Act 1. This area has a waypoint and is connected to The Climb and The Upper Prison.
The exit to the Climb spawns in the upper left and leads to a maze of cell rooms and cages. The waypoint is located in a random room.
Quest
Monsters
Native monsters in this area can resist fire, lightning or cold. They deal physical, fire, lightning and cold damage.
Guests:
Items found in this area
Item
The Summoner

The Summoner

6

Superior Minion Gem


Quality:

+20%

To own a piece of the Nightmare, you must first belong to the Nightmare.

1
The Warden

The Warden

4

Amulet
Corrupted

Brutus' first innovation as Lord Incarcerator was a weighted chain around every neck so that his prisoners would forever bow to him.

1
Soundtrack
Version history
| Version | Changes |
| --- | --- |
| 3.0.0 | The Cruel/Merc difficulties of the area have been removed. |
| 2.0.0 | Zone levels changed from 9/37/54 to 8/42/56 due to 2.0 zone progression balancing. |
| Unknown | |