All the money in the world can't stop a world from ending.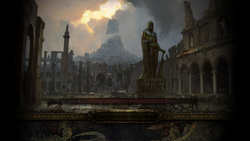 The Marketplace is an area in Act 3. This area has a waypoint and is connected to The Sewers (in the past The Market Sewers and The Warehouse District), The Catacombs and The Battlefront.
This area is divided into two large halves, which are connected by a paved road with dozens of gladiator statues. One area has the Warehouse exit, and the other contains the Catacombs near the area boundary, and the Battlefront randomly placed on the area boundary. Each side contains an entrance to The Market Sewers. The Sarn marketplace is filled with ruined buildings where merchants would sell their wares from a stall. Broken-down wagons and scraps of wood litter the ground. The quest item
Decanter SpiritusDecanter Spiritus"Man is blinded by the mud of his corporeal self. Only
through the transformation of the material into the
spiritual can we hope to taste the full body of life."
- Malachai the Soulless
can be found in an ornate chest.
Monsters
Guests:
Items found in this area
Item
Decanter Spiritus

Decanter Spiritus

"Man is blinded by the mud of his corporeal self. Only
through the transformation of the material into the
spiritual can we hope to taste the full body of life."
- Malachai the Soulless
1
The Poet

The Poet

9

Blood of Corruption
CorruptedGod had forsaken the land
And Victario wept.
Corruption consumed the land
And Victario's tears turned to blood.
1
Three Faces in the Dark

Three Faces in the Dark

7

3x Chaos Orb

For every threat you spy in the shadows, there are two others you don't.

1
Assassin's Favour

Assassin's Favour

9

DaggerBy the time their eyes meet,
the dark deal has long since been made,
and his fate long since sealed.
1
The Saint's Treasure

The Saint's Treasure

10

2x Exalted Orb

Publicly, he lived a pious and chaste life of poverty. Privately, tithes and tributes made him and his lascivious company very comfortable indeed.

1
Lore
Version history