Disease in the darkness.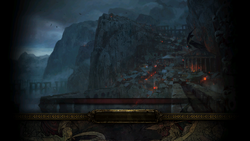 The Mines Level 2 is an area in Act 4. It has no waypoint and is connected to The Mines Level 1 and The Crystal Veins.
Like Level 1, upon first entering, the entire mine network will rumble, causing your character to comment. The spirit of Deshret can also be found here and freed, which is a part of the optional quest An Indomitable Spirit.
Quests
Monsters
Items found in this area
Item
Volatile Power

Volatile Power

9

Superior Vaal Gem


Quality:

+20%


Corrupted

Unlimited power is apt to corrupt the minds of those who possess it.

1
The Endurance

The Endurance

4

Vivid Crimson JewelCrimson rubies, drops of vigour,
flowing through my veins,
flesh like coal, try to crush me,
diamond is what remains.
1
Version history
| Version | Changes |
| --- | --- |
| 3.0.0 | Removed the Cruel and Merciless difficulty levels. Path of Exile is now a single ten-act playthrough. |