The Obelisks of Faith
area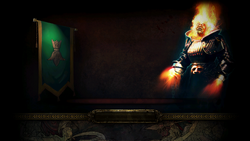 The Obelisks of Faith is a normal difficulty area in Descent: Champions. This area is entered from The Haunted Dungeon and exits to The Cage.
Monsters
Goatmen. They stand on obelisks all around a narrow bridge the player is walking on and
Leap SlamLeap SlamAttack, AoE, Movement, Travel, Slam, Melee
Level: (1-20)
Cost: 10 Mana
Radius: 15Requires Level 10Jump into the air, damaging and knocking back enemies with your weapon where you land. Enemies you would land on are pushed out of the way. Requires an Axe, Mace, Sceptre, Sword or Staff. Cannot be supported by Multistrike.Per 1% Quality:1Superior2Anomalous3Divergent4Phantasmal1% increased Stun Duration on enemies1% increased Area of Effect1% increased Damage0.5% increased Attack SpeedDeals (100-150)% of Base Attack Damage
+0.55 seconds to Attack Time
(20-39)% increased Stun Duration against Enemies that are on Full Life
Damaging Hits always Stun Enemies that are on Full LifePlace into an item socket of the right colour to gain this skill. Right click to remove from a socket.

at him when he comes close, from both sides of the bridge. They can be magical.
Items found in this area
There are currently no items that have a drop table specific to this area.
Area Chest
Version history