The Ossuary (Act 5)
The faithful dead watch over the city with hollow eyes.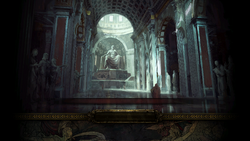 The Ossuary is an area in Act 5. This area does not have a waypoint and is connected to Ruined Square. The entrance to The Ossuary is always directly enclosed to the waypoint of the Ruined Square.
The layout is a large clockwise loop, with a hidden passage at the end that leads back to the entrance. The Tomb of the First Templar is near the hidden passage and contains the Sign of Purity.
NPCs
Quests
Monsters
Items found in this area
Item
Coveted Possession

Coveted Possession

9

5x Regal Orb

A taste of power brings a hunger for more.

1
Might is Right

Might is Right

9

Trypanon

The mind had much to endure before the advent of thaumaturgy.

1
No Traces

No Traces

9

30x Orb of Scouring

There is no mistake so great that it cannot be undone.

1
Lore
Version history
| Version | Changes |
| --- | --- |
| 3.0.0 | |