Once tamed rivers now running free.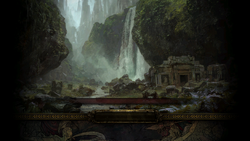 The Riverways is an area in Act 2. This area has a waypoint and is connected to The Forest Encampment, The Western Forest, and The Wetlands.
A stone road leads from the Forest Encampment in the north-east corner to the Western Forest in the south-west. Bridges cross over rivers, but if a bridge is destroyed you must find another crossing. The exit to the Wetlands is marked by a break in the road and two pillars, which can easily be found near the waypoint.
Quests
Monsters
Guests
Items found in this area
There are currently no items that have a drop table specific to this area.
Lore
Version history
Version
Changes
2.0.0
1.2.0

Tailsinger has been rebalanced and added to The Riverways.

1.0.0

Some world areas have been renamed.
(Not in patch note) Renamed from "River Crossings" to The Riverways.

Unknown