The putrid interior oozes and spoils.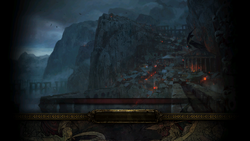 The Rotting Core is an area in Act 9. It is connected to The Belly of the Beast. Vaal side area has a chance to spawn.
The area has a subarea The Black Core, which in turn connects to Doedre's Despair, Maligaro's Misery, Shavronne's Sorrow and finally The Black Heart.
NPCs
Quests
Monsters
The Rotting Core:
Bloodstained Warrior

Bloodstained Archer

Gut Spiker
In Doedre's Despair:
In Maligaro's Misery:
Maligaro's Cruelty

Maligaro's Passion

Maligaro's Inspiration

Maligaro's Muse
In Shavronne's Sorrow:
Shavronne's Greed

Shavronne's Envy

Shavronne's Legacy

Shavronne's Vision

The Black Heart after killing; Doedre, Darksoul, Maligaro, The Broken, Shavronne, Unbound:
Items found in this area
Item
The Hoarder

The Hoarder

12

Exalted Orb

"More! I want more!" - Faendris, the Insatiable

1
The Hunger

The Hunger

9

Taste of Hate"How many lives have you consumed?"
"How many times have you blinked?"
1
The Oath

The Oath

6

Death's Oath

An oath once made is an oath never broken. Do not delay in keeping it, for I take no pleasure in fools.

1
The Insatiable

The Insatiable

3

The Harvest
Corrupted

A lust for souls. The urge to kill just to satisfy its thirst. An unbearable burden that would make even the purest heart blacken over time.

1
Vile Power

Vile Power

5

Ancient DoomDread and danger
makes the air feel thin.
Above, power slumbers, tempting fate.
Greed and ambition
draws countless in,
For those who seek power
can never wait.
1
Lore
It is the same area as The Harvest. After the player controlled protagonist killed The Beast in Act 5, it seems also affects the area.
Gallery
Version history
| Version | Changes |
| --- | --- |
| 3.0.0 | |