The Sarn Encampment
Town area

A shaky peace descends, though swords will never rest.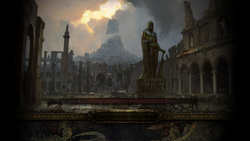 The Sarn Encampment is the town for Act 8 and is connected to The Sarn Ramparts and The Toxic Conduits. Like all towns, it has a Stash, Noticeboard, and Waypoint.
The encampment is built on the ruins of the Sarn Arena, at the southern edge of the city and surrounded by a large body of water, as a refuge for the few exiles in the region.
NPCs
Quests
Lore
Version history
| Version | Changes |
| --- | --- |
| 3.0.0 | |