The pinnacle of power. The height of hubris.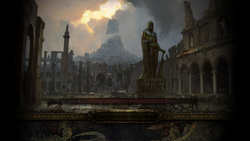 The Sceptre of God is an area in Act 3. This area has a waypoint and is connected to The Imperial Gardens and The Upper Sceptre of God.
The ground floor entrance has a statue of the thaumaturgist Malachai. There are three floors in this area, each shaped like a circle, and the waypoint is in a random room on the third floor.
Quests
Monsters
Items found in this area
Item
The Drunken Aristocrat

The Drunken Aristocrat

8

Divination Distillate

The finer the brew, the harder it is to remember drinking it.

1
The Tower

The Tower

6

Staff

A tower built of the strongest stone is not eternal; a towering intellect is not enlightened.

1
Lore
Version history