Whispered agonies of the marooned dead.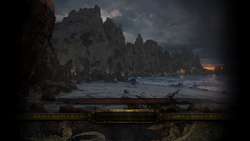 The Ship Graveyard is an area in Act 1. This area has a waypoint and is connected to Prisoner's Gate, The Ship Graveyard Cave, and The Cavern of Wrath.
The Prisoner's Gate exit can appear on any side of the area, but it is always fairly close to the waypoint and Captain Fairgraves. The entrance to the Ship Graveyard Cave is inland in the wreckage of a ship.
NPCs
Quests
Monsters
Native monsters in this area can resist cold, fire or chaos damage and deal physical and cold damage. They can apply the
Temporal ChainsTemporal ChainsSpell, AoE, Duration, Curse, Hex
Level: (1-20)
Cost: (16-33) Mana
Cast Time: 0.50 sec
Radius: 22Requires Level 24Curses all enemies in an area, lowering their action speed and making other effects on them expire more slowly.Per 1% Quality:1Superior2Anomalous3Divergent0.5% increased Effect of CurseCurse has 2% increased Doom gain rate1% increased Curse DurationBase duration is (5-5.95) seconds
Cursed Normal and Magic Enemies have (20-29)% less Action Speed
Other effects on Cursed enemies expire 40% slower
50% less Effect of Curse against Players
Cursed Rare and Unique Enemies have (10-14)% less Action Speed
Curse gains 10 Doom per second if you Cast this Spell yourself
+(0-10) to radiusPlace into an item socket of the right colour to gain this skill. Right click to remove from a socket.
curse.
Items found in this area
There are currently no items that have a drop table specific to this area.
Lore
Soundtrack
Version history
Version
Changes
2.0.0

Zone levels changed from 12/38/55 to 11/43/57 due to 2.0 zone progression balancing.
The Coves area has been removed.

0.11.6

The Ship Graveyard area has been changed to remove sections that could be traveled to only with movement skills.