Only the wind whistles and whines here now.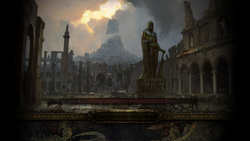 The Slums is an area in Act 3. This area does not have a waypoint and is connected to The Sarn Encampment, The Crematorium and The Sewers.
The crumbling ruins of the city slums now house the Undying. This area is filled with stairs connecting the ground level and an upper level. A short way from the entrance you can find a couple of stairs that lead to a series of roofs and rafters that ends in a large square with the entrance to the Crematorium. The Sewers entrance spawns in a random location on the ground level, closer to The Sarn Encampment than The Crematorium.
Monsters
Guests:
Items found in this area
Item
Jack in the Box

Jack in the Box

4

ItemTurn the crank,
close your eyes,
and pray to the gods
for a pleasant surprise.
1
The Gentleman

The Gentleman

4

Sword
Corrupted

"Axes and mauls are so uncivilised. A good clean cut to the neck with a sharp blade, that's the Sarn way!"

1
The Saint's Treasure

The Saint's Treasure

10

2x Exalted Orb

Publicly, he lived a pious and chaste life of poverty. Privately, tithes and tributes made him and his lascivious company very comfortable indeed.

1
Lore
Version history
Version
Changes
2.0.0
1.0.0

Waypoint moved to The Crematorium
Renamed from Sarn Slums to The Slums
Monster level in Cruel changed from 47 to 46 (needs to be confirmed)