The Solaris Temple Level 1
area

An empire at its height, reflected in polished gold.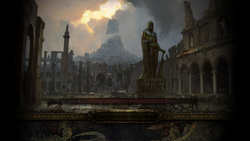 The Solaris Temple Level 1 is an area in Act 3. This area has a waypoint and is connected to The Battlefront and The Solaris Temple Level 2.
The Solaris Temple is a maze of large rooms. The area contains bottomless pits. Very large area contain the Voltaic Seal and the Infernal Seal. Golden Chests are normal loot containers.
Monsters
Items found in this area
Item
The Sun

The Sun

7

Rise of the Phoenix

Each night, the light dies, and each morning she is born anew, embracing the land in her golden wings.

1
Version history
| Version | Changes |
| --- | --- |
| 3.11.0 | Carpets tilesets are now align with the doors. |
| Unknown | |