The Solaris Temple Level 2
area

An empire at its height, reflected in polished gold.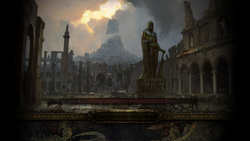 The Solaris Temple Level 2 is an area in Act 3. This area has a waypoint and is connected to The Solaris Temple Level 1.
The second level of Solaris temple has a similar layout to the first level. The Goddess of Purity spawns at the area's largest water pool. At the end of the maze is the waypoint and Lady Dialla.
The Eternal Laboratory can be found next to Lady Dialla, containing a crafting recipe and a piece of environmental lore. This location contained a Map Device before the Atlas of Worlds expansion.
NPCs
Quests
Monsters
Items found in this area
Item
The Sun

The Sun

7

Rise of the Phoenix

Each night, the light dies, and each morning she is born anew, embracing the land in her golden wings.

1
Lore
Version history
| Version | Changes |
| --- | --- |
| 3.11.0 | Carpets tilesets are now align with the doors. |
| Unknown | |