Lush and humid, sweating violence.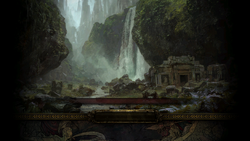 The Southern Forest is the first area in Act 2. This area has a waypoint and is connected to The Forest Encampment and The Cavern of Anger, though you cannot travel back into the Cavern of Anger.
The layout is linear and is similar to The Ledge, with water on one side and cliffs on the other. The waypoint by the entrance is activated automatically after killing Merveil, the Siren. Traveling north leads to the Forest Encampment, the town of Act 2.
Monsters
Items found in this area
There are currently no items that have a drop table specific to this area.
Version history
| Version | Changes |
| --- | --- |
| 2.0.0 | Zone levels changed from 15/40/57 to 13/44/59 due to 2.0 progression balancing. |