The air is rich with despair and apparition.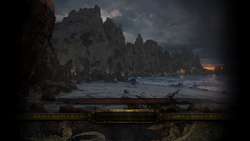 The Upper Prison is an area in Act 1. This area has no waypoint and is connected to The Lower Prison and Prisoner's Gate.
The Upper Prison contains two additional sub-areas: The Warden's Quarters and The Warden's Chambers. The door to the Warden's Quarters is randomly located in the Upper Prison and leads to the player's first encounter with Piety of Theopolis, an NPC who speaks and then vanishes. Beyond Piety is a trail of blood leading to the Warden's Chambers and the Brutus, Lord Incarcerator boss fight.
Defeating Brutus will unlock the door to the Prisoner's Gate. The waypoint in that area will also be activated, so you can optionally portal back to town before proceeding. After leaving The Upper Prison for Prisoner's Gate you won't be able to come back that way.
Quests
Monsters
Native monsters in this area can resist cold, lightning or elemental damage and deal physical, cold or lightning damage. They can deal physical damage over time and apply the
EnfeebleEnfeebleSpell, AoE, Duration, Curse, Hex
Level: (1-20)
Cost: (16-33) Mana
Cast Time: 0.50 secRequires Level 24Curses all targets in an area, reducing their accuracy and making them deal less damage.Per 1% Quality:1Superior2Anomalous3Divergent0.5% increased Effect of CurseCurse has 2% increased Doom gain rateCurse Skills have 0.5% increased Cast SpeedBase duration is (9-10.9) seconds
Cursed enemies have (10-19)% reduced Accuracy Rating
Cursed Normal or Magic enemies deal (21-30)% less Damage
Cursed Rare or Unique enemies deal (10-15)% less Damage
Curse gains 10 Doom per second if you Cast this Spell yourself
+(0-10) to radiusPlace into an item socket of the right colour to gain this skill. Right click to remove from a socket.

curse.
Guests:
Items found in this area
Item
The Summoner

The Summoner

6

Superior Minion Gem


Quality:

+20%

To own a piece of the Nightmare, you must first belong to the Nightmare.

1
The Warden

The Warden

4

Amulet
Corrupted

Brutus' first innovation as Lord Incarcerator was a weighted chain around every neck so that his prisoners would forever bow to him.

1
Soundtracks
Version history
| Version | Changes |
| --- | --- |
| 2.0.0 | Zone levels changed from 10/38/54 to 9/43/57 due to 2.0 progression balancing. |