What madness flitters and creeps through the darkened trees?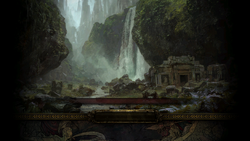 The Western Forest is an area in Act 6. This area has a waypoint and is connected to Prisoner's Gate and The Riverways.
The area bears a similar structure to the area of the same name in Act 2, with a road leading through the area. The Blackguard Barricade remains in place, and Alira's fort will be present. However, the blackguards are undead, the camp infested with thaumaturgical abominations, and the Weaver's cave is no longer present.
Monsters
Defiled Proclamation (Spawn only when the player clicked the rocks in the centre of the pillars, where Voll's Proclamation used to be)

Boar Acolyte

- Charges, Blocks attacks

Bear Acolyte

- Cleaves
Stag Acolyte - Uses Split Arrow

Enraptured Arachnid

Spitting Parasite
Items found in this area
Item
Lantador's Lost Love

Lantador's Lost Love

7

Two-Stone RingThey fought the storm together as one,
Until the longest of days was done.
Their love grew stronger
with every breath,
Until it was broken apart in death.
1
The Incantation

The Incantation

4

The Whispering Ice

When there is no other choice, even the meekest whisper can bring about the greatest storm.

1
The Betrayal

The Betrayal

9

Maligaro's Virtuosity

It's sad times we live in when a friendship has a price people are willing to pay.

1
Emperor of Purity

Emperor of Purity

7

Six-Link Holy Chainmail


Item Level:

60

True to his title,
Voll, newly crowned,
had many of the
Eternal Empire's signature
extravagances destroyed.
1
Version history
| Version | Changes |
| --- | --- |
| 3.0.0 | |