A corpulent grub flails mindlessly, infesting the putrescent muck.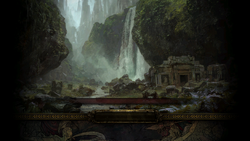 The Wetlands is an area in Act 6. This area does not have a waypoint and is connected to The Riverways. It contains a subarea labelled as The Spawning Ground, the lair of a parasitic blight upon the forest.
NPCs
Quests
Monsters
In "The Spawning Ground" only
Items found in this area
Item
Lantador's Lost Love

Lantador's Lost Love

7

Two-Stone RingThey fought the storm together as one,
Until the longest of days was done.
Their love grew stronger
with every breath,
Until it was broken apart in death.
1
Trivia
The area contains a bandit fort much like Oak's in the area of the same name in Act 2. The area also has the area that used to be the entrance of The Vaal Ruins (and where the tree Lorrata used to be), but shown collapsed. Next to it, is a broken waypoint.
Version history
| Version | Changes |
| --- | --- |
| 3.0.0 | |