The Wetlands (Act 6)
A corpulent grub flails mindlessly, infesting the putrescent muck.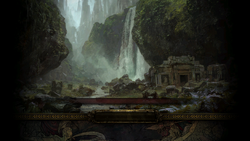 The Wetlands is an area in Act 6. This area does not have a waypoint and is connected to The Riverways. It contains a subarea labelled as The Spawning Ground, the lair of a parasitic blight upon the forest.
NPCs
Quests
Monsters
Items found in this area
Item
Lantador's Lost Love

Lantador's Lost Love

7

Two-Stone RingThey fought the storm together as one,
Until the longest of days was done.
Their love grew stronger
with every breath,
Until it was broken apart in death.
1
Trivia
Version history
| Version | Changes |
| --- | --- |
| 3.0.0 | |