Line 27:
Line 27:
 

{{legacy variant table header}}

 

{{legacy variant table header}}

 

{{legacy variant table row|2.6.0|Socketed Gems are Supported by level 18 Added Lightning Damage <br> {{c|mod|Adds 1 to 40 Lightning Damage to Attacks}} <br> 10% increased Attack Speed <br> +(25-30) to maximum Energy Shield <br> 100% increased Shock Duration on Enemies <br> 10% increased Stun Duration on Enemies}}

 

{{legacy variant table row|2.6.0|Socketed Gems are Supported by level 18 Added Lightning Damage <br> {{c|mod|Adds 1 to 40 Lightning Damage to Attacks}} <br> 10% increased Attack Speed <br> +(25-30) to maximum Energy Shield <br> 100% increased Shock Duration on Enemies <br> 10% increased Stun Duration on Enemies}}

−

{{legacy variant table row|1.0.0|Socketed Gems are Supported by level 18 Added Lightning Damage <br> {{c|mod|Adds 1 to 100 Lightning Damage to Attacks}} <br> 10% increased Attack Speed <br> +(25-30) to maximum Energy Shield <br> 100% increased Shock Duration on Enemies <br> 10% increased Stun Duration on Enemies}}

+

{{legacy variant table row|1.0.0|Socketed Gems are Supported by level 18 Added Lightning Damage <br> Adds 1 to 100 Lightning Damage to Attacks <br> 10% increased Attack Speed <br> +(25-30) to maximum Energy Shield <br> 100% increased Shock Duration on Enemies <br> 10% increased Stun Duration on Enemies}}

 

|}

 

|}

 
 
---
Revision as of 08:16, 4 April 2017
Lua error in Module:Item2/core at line 517: attempt to index field '?' (a nil value).
Thunderfist is a unique pair of
Murder MittsMurder MittsEvasion: 121
Energy Shield: 24Requires Level 67, 51 Dex, 51 Int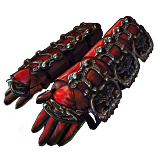 .
Modifiers
Applicable skill gems socketed in this item are supported by level 18 Module Error: No skills found with q_where = skill.active_skill_name="Added Lightning Damage Support". All support modifiers are accounted for, including the mana multiplier.
Legacy variants
Thunderfist has a legacy variant.
Version Discontinued
Modifiers
2.6.0




Socketed Gems are Supported by level 18 Added Lightning Damage
Adds 1 to 40 Lightning Damage to Attacks
10% increased Attack Speed
+(25-30) to maximum Energy Shield
100% increased Shock Duration on Enemies
10% increased Stun Duration on Enemies

1.0.0




Socketed Gems are Supported by level 18 Added Lightning Damage
Adds 1 to 100 Lightning Damage to Attacks
10% increased Attack Speed
+(25-30) to maximum Energy Shield
100% increased Shock Duration on Enemies
10% increased Stun Duration on Enemies
Gallery
Version history
| Version | Changes |
| --- | --- |
| 2.6.0 | Added Lightning Damage mod increased to 1-100. |
| 2.3.0 | |
| 1.0.0 | Thunderfist's Lightning Damage has been reduced. |
| 0.10.8 | |