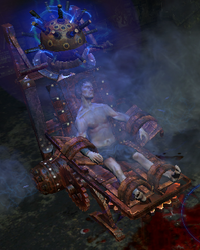 Tolman is the now-deceased boyfriend of Clarissa.
Lore
He was captured together with Clarissa while they were out in the Slums and subsequently tortured to death by Piety of Theopolis in the Crematorium in what is presumably one of her thaumaturgical experiments. Retrieving the
Tolman's BraceletTolman's BraceletA craftswoman's ode to
fresh hope, a new love.
he was given by Clarissa is the objective of the
Lost in Love quest.
In Act 8, player met the zombie version of Tolman in The Sarn Encampment (Act 8), and Clarissa requested the player to turn Tolman back to normal in a resurrection site in The Quay, during the
Love is Dead quest. Turn out Tolman is not able to be revived and became a monster that summon other zombie as well as attack the player character. The player killed Tolman to protect Clarissa instead.
Dialogue
Tolman is voiced by American-born New Zealand actor, Campbell Cooley.[1]
Map variants
Tolman, the Exhumer (
Mausoleum MapMausoleum MapMap Level: 76
Map Tier: 9
Guild Character: [A vault for the dead, as if they were valuable. Pathetic.Travel to this Map by using it in a personal Map Device. Maps can only be used once.
)
Trivia
When player revisit The Quay in a new area instance, Tolman will be respawn again in the resurrection site, just like most bosses of other act areas. However, player cannot target or kill Tolman again, since the quest item
Ankh of EternityAnkh of Eternity"The amulet, it... whispers to me. Horrible things..."
is absent or other reason that not able to trigger the boss fight.
Version history
| Version | Changes |
| --- | --- |
| 3.1.0 | Improved the Tolman encounter in Act 8. Tolman and the Ankh can now use a few extra skills. |
| 3.0.0 | Introduced to the game as monster. |
| 0.10.0 | Introduced to the game as NPC. |
References