Touch of Anguish
Imperial Claw
Claw
Quality: +20%
Physical Damage: (78-90) to (234-258)
Critical Strike Chance: (7.80%-8.40%)
Attacks per Second: 1.60
Weapon Range: 11
Requires Level 68, 131 Dex, 95 Int
+46 Life gained for each Enemy hit by Attacks
Adds (40-50) to (130-150) Physical Damage
30% increased Cold Damage
(30-40)% increased Critical Strike Chance
20% chance to gain a Frenzy Charge on Killing a Frozen Enemy
Skills Chain an additional time while at maximum Frenzy Charges
10% chance to Freeze
Critical Strikes do not inherently Freeze
Grip the frozen steel, feel it numb you.
Wield the cold touch of death like
a splinter of your own shattered heart.
Vendor Prices
Vendor Offer
14x Alchemy Shard
11x Alteration Shard
Weapon DPS
Physical: (249.6-278.4)
Phys+Chaos: (249.6-278.4)
Total: (249.6-278.4)
Metadata
Item class: Claws
Touch of Anguish is a unique
Imperial ClawImperial ClawClaw
Physical Damage: 25-65
Critical Strike Chance: 6.00%
Attacks per Second: 1.60
Weapon Range: 11Requires Level 68, 131 Dex, 95 Int+46 Life gained for each Enemy hit by Attacks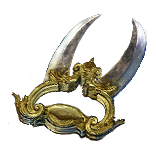 .
Mechanics
Critical Strikes do not always Freeze simply means critical strikes alone cannot cause freezing. Freeze can still occur by other means –such as #% chance to Freeze modifiers– even if they coincide with a critical strike.[1][2]
Item acquisition
Upgrade paths
This item can be acquired through the following upgrade paths or vendor recipes:

Amount
Ingredient
General
Notes
Type
4
The Wolverine

The Wolverine

4

Claw
Corrupted

Claw them from the bottom, you'll be glad that you have got 'em, claw them from the top, you'll never want to stop.

random corrupted claw
Automatic
4
Atziri's Arsenal

Atziri's Arsenal

4

Weapon
Corrupted

In the prison of all sins, will you grasp godhood or sorrow? Only hope lies under the shadows.

random corrupted weapon
Automatic
7
Prejudice

Prejudice

7

Item


Influenced ItemOne who is blinded by their past may
only see a sliver of the present.
random influenced item
Automatic
8
Arrogance of the Vaal

Arrogance of the Vaal

8

Item


Two-Implicit


Corrupted

Discovery can lead to beauty, or it can lead to ruin.

random two-implicit corrupted item
Automatic
4
Jack in the Box

Jack in the Box

4

ItemTurn the crank,
close your eyes,
and pray to the gods
for a pleasant surprise.
random item
Automatic
1
Singular Incubator

Singular Incubator

Adds an incubated Unique item to an equippable item
Item drops after killing # monsters

Unique Item

Right click this item then left click an item to apply it. The Incubated item drops after killing a specific number of monsters.

random item
Automatic
1
The Void

The Void

1

Reach into the Void and claim your prize.

random divination card set exchange
Automatic
Legacy variants
Touch of Anguish has legacy variants.
Version Discontinued
Modifiers
2.6.0




+25 Life gained for each Enemy hit by Attacks

Adds (40-50) to (130-150) Physical Damage
30% increased Cold Damage
(30-40)% increased Critical Strike Chance
20% chance to gain a Frenzy Charge on Killing a Frozen Enemy
Skills Chain an additional time while at maximum Frenzy Charges
10% chance to Freeze
Critical Strikes do not inherently Freeze
Supporter attribution
Touch of Anguish was created by supporter iAreNubcake.[3][4]
Gallery
Version history
Version
Changes
2.6.0

Base type implicit mod increased to

+46 Life gained for each Enemy hit by Attacks

(up from 25).
Base type damage increased to 25-65 (up from 22-57).

2.3.0
References