Triskaidekaphobia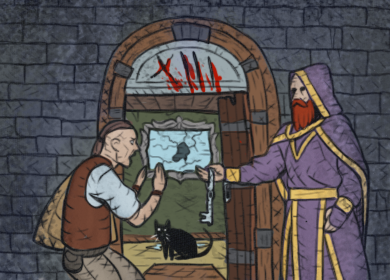 Triskaidekaphobia13Map
Map Tier: 13
Quality: +13%
Delirium: 100%
Modifiers: 8
CorruptedThe Mists of Madness prey on those who harbour the deepest of fears.Acquisition
Level: 1
Can drop in tier 13 maps, from Delirium monsters, Vaal side areas, Atziri, Uber Atziri, the Temple of Atzoatl, the Maven's Invitation: The Feared encounter.Sell Price
1x Scroll FragmentMiscellaneous
Item class: Divination Card
Metadata ID: Metadata/Items/DivinationCards/DivinationCardTriskaidekaphobia
Triskaidekaphobia is a divination card. A set of thirteen can be exchanged for a random corrupted rare tier 13 map with 8 modifiers, 13% quality and 100% delirium.
Item acquisition
Can drop in tier 13 maps, from Delirium monsters, Vaal side areas, Atziri, Uber Atziri, the Temple of Atzoatl, the Maven's Invitation: The Feared encounter.
Upgrade paths
This item can be acquired through the following upgrade paths or vendor recipes:

Amount
Ingredient
General
Notes
Type
5
The Gambler

The Gambler

5

Divination Card

"I don't believe in karma. If it were real, I would never win."

random divination card
Automatic
1
Stacked Deck

Stacked Deck

Stack Size: 10

A stack of unknown divination cards

Right click to take a divination card out of the deck.
Shift click to unstack.
random divination card
Automatic
Supporter attribution
Triskaidekaphobia was created by supporter Archernick.[1]
Trivia
Triskaidekaphobia is the fear of the number 13.
Version history
| Version | Changes |
| --- | --- |
| 3.12.0 | |
References