Twisted Distant Memory
Twisted Distant Memory
Park Map
Map Level: 80
Map Tier: 4
Item Quantity: +100%
Monster Pack Size: +25%
100% increased Experience gain
Monster Level: 80
Map has (3-5) additional random Modifiers
Map has (2-4) additional Synthesis Global Modifiers
Without our strict rule, man's destructive side would take hold.
Our beautiful public spaces, our services for the ill and the needy, all of it would crumble.
Travel to this Map by using it in a personal Map Device. Maps can only be used once.
Purchase Costs
Sell Price
12x Alchemy Shard
Miscellaneous
Item class: Maps
Twisted Distant Memory
Map area, Unique Map area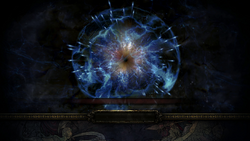 Twisted Distant Memory is a unique
Park MapPark MapMap Level: 80
Map Tier: 13
Guild Character: ÷A brief respite in a sea of obligation and uncertainty.Travel to this Map by using it in a personal Map Device. Maps can only be used once.
. It is one of the five Synthesis Unique Maps. It is not on the Atlas thus not part of the Atlas completion and don't have a variable tier.
Modifiers
The map has two pools of map modifiers, one draw from "synthesis global " pool (mod domain = 19), one from "synthesis local" pool (mod domain = 18).
Layout
Encounters
Boss
Venarius (not targetable)
Twisted Synthete
Twisted Synthete's attack is following Venarius' dialogue:
Erasure! Searing Bond

Searing Bond

Spell, Totem, Fire
Cost: (18-51) Mana
Cast Time: 1.00 secRequires Level 12

Summons a totem that casts a beam of fire at you and each other totem you control, dealing burning damage to enemies caught in the beam. Enemies near either end of a beam also suffer burning damage.

Per 1% Quality:1

Superior

2

Anomalous

3

Divergent

4

Phantasmal

1% increased totem life

2% increased Totem Duration

1% increased Damage

+0.1 to maximum number of Summoned Totems

Totem lasts 8 seconds
Deals (29.4-2459.5) Base Fire Damage per second
+1 to maximum number of Summoned Totems
Modifiers to Spell Damage apply to this Skill's Damage Over Time effect

Place into an item socket of the right colour to gain this skill. Right click to remove from a socket.

-like totems but in blue in colour. Either stand in the edge of the arena (outside the web of Searing Bond), or inside the arena between the gaps of the totems
Boss video
Items found in this area
Item
Her Mask

Her Mask

4

Sacrifice FragmentTo her beauty you submit,
lest your neck the great Queen slit.
1
Item acquisition
Upgrade paths
This item can be acquired through the following upgrade paths or vendor recipes:

Amount
Ingredient
General
Notes
Type
8
The Encroaching Darkness

The Encroaching Darkness

8

Map
Corrupted

No matter where your dreams take you, Nightmare follows close behind.

random corrupted Map
Automatic
8
Otherworldly Incubator

Otherworldly Incubator

Adds an incubated Unique Map item to an equippable item
Item drops after killing # monsters

Unique Map Item

Right click this item then left click an item to apply it. The Incubated item drops after killing a specific number of monsters.

random Map
Automatic
4
Jack in the Box

Jack in the Box

4

ItemTurn the crank,
close your eyes,
and pray to the gods
for a pleasant surprise.
random item
Automatic
It is one of the possible options from Zana's Atlas Mission or whenever she appears in higher tier maps.
Version history
Version
Changes
3.9.0

All 5 Synthesis maps can now drop as unique items. They can only be acquired from map bosses of Tier 11 or greater maps (or Tier 14 or greater for Cortex), or if you're very, very lucky, maybe Zana will sell you one.
All Synthesis maps now require a minimum level 80 area to appear in Zana's mission window.

3.8.0

Overhauled as a core mechanics
If you're lucky, Zana will now offer 5 new unique maps as part of her missions. Each map contains a boss encounter originally from the Synthesis league, and each can drop unique items originally exclusive to that league. Note, you cannot obtain Fractured items, nor will you have any access to the Synthesiser.

3.6.0

Introduced to the game as league mechanics