Underground River Map (Original)
Underground River Map
Map Level: 70
Map Tier: 5
Guild Character: Á
Travel to this Map by using it in the Templar Laboratory or a personal Map Device. Maps can only be used once.
Acquisition
Level: 70


DROP DISABLED
Purchase Costs
Sell Price
1x Scroll Fragment
Miscellaneous
Item class: Maps
Metadata ID: Metadata/Items/Maps/MapTier5_1
Underground River
Map area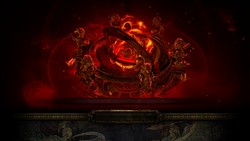 Other versions
Version history
Version
Changes
3.5.0

The Atlas of Worlds has been shuffled. Most maps have changed tier and location within the Atlas.
Many map bosses have also shifted around. Some have been retired and replaced!
(Not in patch notes) The Atlas will now be shuffled every league.

3.1.0

The entire Atlas has been reworked. Many map names have changed, as have their balance, tier and position on the Atlas. Many maps have also had their boss fights swapped or completely reworked.
The rules used to generate monsters in endgame maps have been significantly reworked and rebalanced around the rate at which we expect players to reliably clear out the map. In general, narrow, linear maps will contain fewer total monsters than maps with complex layouts. We will be closely monitoring and adjusting the balance of this change and expect to make further changes and improvements over time.

2.4.0

Most existing maps have been revamped to have more balanced monster composition, layouts, boss fights and rewards.
(Not in patch note) The layout was swapped with Underground Sea Map.
(Not in patch note) Beast of the Pits no longer the map boss. It That Fell became the map boss.

0.10.0

Start of open beta. Old map item were wiped from the server data. Map progress is re-tiered. Area level had changed to 70 (T5).

0.9.11

Introduced to the game. Initially, the area level is 61 (T2).