Underground Sea Map
Map Level: 72
Map Tier: 5
Guild Character: q
Silent stillness. The waters are as cold as they are black.
Travel to this Map by using it in the Templar Laboratory or a personal Map Device. Maps can only be used once.
Acquisition
Area level: 71


DROP DISABLED
Vendor Prices
Vendor Offer
1x Scroll Fragment
Metadata
Item class: Maps
Silent stillness. The waters are as cold as they are black.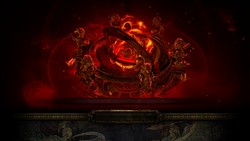 Underground Sea Map is a map area.
Layout
Encounters
Boss
Boss video
Items found in this area
Item
Lantador's Lost Love

Lantador's Lost Love

7

Two-Stone RingThey fought the storm together as one,
Until the longest of days was done.
Their love grew stronger
with every breath,
Until it was broken apart in death.
1
The Lover

The Lover

2

Jewellery


Item Level:

79

"I wanted to give you three things. I've given you my eternal love. I've sung to you my most beautiful song. I'd have given you the moon last, but it couldn't be found. I hope you'll accept this instead."

1
The Gambler

The Gambler

5

Divination Card

"I don't believe in karma. If it were real, I would never win."

1
The Encroaching Darkness

The Encroaching Darkness

8

Map
Corrupted

No matter where your dreams take you, Nightmare follows close behind.

1
The Siren

The Siren

7

The Whispering Ice
CorruptedAt the beck and call
of The Siren's hand,
winter ravages
the trembling land,
and the weight of ice that binds
will break the strongest of minds.
1
The Survivalist

The Survivalist

3

7x Orb of AlchemyA lucky number
For us all
To help us through
The perils told.
1
Glimmer of Hope

Glimmer of Hope

8

Gold Ring

When you dwell in total darkness, even the faintest light may guide you out.

1
Her Mask

Her Mask

4

Sacrifice FragmentTo her beauty you submit,
lest your neck the great Queen slit.
1
Treasure Hunter

Treasure Hunter

7

Vaults of Atziri
Corrupted"Don't worry, I know what I'm doing."
- Toggo's Last Words
1
Lysah's Respite

Lysah's Respite

6

Agate Amulet
CorruptedSo many memories,
so much pain in
such a small token.
Drown it in blood
so you can forget.
1
The Fathomless Depths

The Fathomless Depths

8

Lightpoacher

Fall into endless night; a voyage into an ocean of oblivion.

1
The Cacophony

The Cacophony

8

3x Deafening Essence

Nothing can be heard above the din or seen amongst the turmoil. The senses are shattered. All is left to fate.

1
The Tinkerer's Table

The Tinkerer's Table

5

5x Fossil

Trying to bring your vision to life is enough to drive you mad.

1
Item acquisition
This item is drop disabled.
Unique versions
There are currently no unique items for this base item type.
Version history
Version
Changes
3.6.0

The Atlas of Worlds has been shuffled. Most maps have changed tier and location within the Atlas.

3.5.0

The Atlas of Worlds has been shuffled. Most maps have changed tier and location within the Atlas.
Many map bosses have also shifted around. Some have been retired and replaced!
(undocumented ) Second stage of the boss, Merveil, the Returned had been added

3.1.0

The entire Atlas has been reworked. Many map names have changed, as have their balance, tier and position on the Atlas. Many maps have also had their boss fights swapped or completely reworked.
The rules used to generate monsters in endgame maps have been significantly reworked and rebalanced around the rate at which we expect players to reliably clear out the map. In general, narrow, linear maps will contain fewer total monsters than maps with complex layouts. We will be closely monitoring and adjusting the balance of this change and expect to make further changes and improvements over time.

2.4.0

Most existing maps have been revamped to have more balanced monster composition, layouts, boss fights and rewards.
(Not in patch note) The layouts were swapped between Underground River Map and Underground Sea Map.
(Not in patch note) The Idol Beyond was removed as map boss. Merveil, the Reflection became the new boss

0.10.0

The following Map areas have been updated so that they're substantially different in layout to before: Spider Forest

Spider Forest Map

Map Level: 69
Map Tier: 4
Guild Character: Ó

Travel to this Map by using it in the Templar Laboratory or a personal Map Device. Maps can only be used once.

, Jungle Valley

Jungle Valley Map

Map Level: 72
Map Tier: 7
Guild Character: 3

Travel to this Map by using it in the Templar Laboratory or a personal Map Device. Maps can only be used once.

, Waste Pool

Waste Pool Map

Map Level: 72
Map Tier: 7
Guild Character: 1

Travel to this Map by using it in the Templar Laboratory or a personal Map Device. Maps can only be used once.

, Dry Woods

Ashen Wood Map

Map Level: 71
Map Tier: 6
Guild Character: Œ

Travel to this Map by using it in a personal Map Device. Maps can only be used once.

, Cemetery

Cemetery Map

Map Level: 67
Map Tier: 2
Guild Character: C

Travel to this Map by using it in the Templar Laboratory or a personal Map Device. Maps can only be used once.

, Mine

Flooded Mine Map

Map Level: 72
Map Tier: 7
Guild Character: 2

Travel to this Map by using it in the Templar Laboratory or a personal Map Device. Maps can only be used once.

, Underground Sea

Underground Sea Map

Map Level: 74
Map Tier: 9
Guild Character: 9

Travel to this Map by using it in the Templar Laboratory or a personal Map Device. Maps can only be used once.

, Bog

Bog Map

Map Level: 70
Map Tier: 5
Guild Character: Ú

Travel to this Map by using it in a personal Map Device. Maps can only be used once.

, Plateau

Plateau Map

Map Level: 75
Map Tier: 10
Guild Character: )

Travel to this Map by using it in the Templar Laboratory or a personal Map Device. Maps can only be used once.

and Dunes

Dunes Map

Map Level: 66
Map Tier: 1
Guild Character: U

Travel to this Map by using it in the Templar Laboratory or a personal Map Device. Maps can only be used once.

.

0.9.11