User:Vinifera7/test3
Fireball
Projectile, Spell, AoE, Fire
Radius: 9
Mana Cost: (6-25)
Cast Time: 0.75 sec
Critical Strike Chance: 6.00%
Effectiveness of Added Damage: 240%
Projectile Speed: 1040
Unleashes a ball of fire towards a target which explodes, damaging nearby foes.
Per 1% Quality:
1

Superior
2

Anomalous
3

Divergent
4

Phantasmal
1% increased Projectile Speed
2% reduced Projectile Speed
3% increased Area of Effect
3% increased Effect of non-Damaging Ailments on Enemies
-2% more Damage with Ignite
0.25% chance to Debilitate Enemies for 1 second on Hit
Deals (9-1095) to (14-1643) Fire Damage
(20-39)% chance to Ignite enemies
(50-88)% more Damage with Ignite
Projectiles gain Radius as they travel farther, up to +(0-9) Radius
Place into an item socket of the right colour to gain this skill. Right click to remove from a socket.

Acquisition
Level: 5
Purchase Costs
Sell Price
1x Scroll Fragment
Miscellaneous
Item class: Active Skill Gems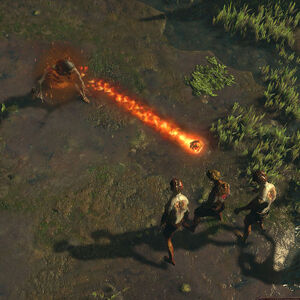 Level
Mana
Cost
Fire
Damage
Ignite
Chance
More
Ignite
Damage
Radius
Exp.
Total Exp.
1
1
0
6
9 to 14
20%
50%
N/A
0
0
2
2
0
6
10 to 16
21%
52%
N/A
70
70
3
4
16
7
13 to 20
22%
54%
+1
308
378
4
7
22
8
18 to 27
23%
56%
+1
1554
1932
5
11
31
9
26 to 40
24%
58%
+2
6667
8599
6
16
41
10
40 to 60
25%
60%
+2
26047
34646
7
20
50
11
54 to 81
26%
62%
+3
49725
84371
8
24
58
12
72 to 109
27%
64%
+3
95714
180085
9
28
67
13
95 to 143
28%
66%
+4
169595
349680
10
32
75
14
124 to 186
29%
68%
+4
283759
633439
11
36
83
15
159 to 239
30%
70%
+5
453996
1087435
12
40
92
16
204 to 305
31%
72%
+5
703128
1790563
13
44
100
18
258 to 388
32%
74%
+6
1061223
2851786
14
48
109
19
326 to 490
33%
76%
+6
2065870
4917656
15
52
117
20
410 to 615
34%
78%
+7
2507110
7424766
16
56
125
21
513 to 770
35%
80%
+7
5798936
13223702
17
60
134
22
640 to 960
36%
82%
+8
15083919
28307621
18
64
142
23
795 to 1193
37%
84%
+8
27792735
56100356
19
67
148
24
934 to 1401
38%
86%
+9
43869739
99970095
20
70
155
25
1095 to 1643
39%
88%
+9
242081556
342051651
21
72
159
25
1217 to 1826
40%
90%
+10
N/A
N/A
22
74
N/A
26
1352 to 2028
41%
92%
+10
N/A
N/A
23
76
N/A
26
1501 to 2251
42%
94%
+10
N/A
N/A
24
78
N/A
27
1665 to 2497
43%
96%
+10
N/A
N/A
25
80
N/A
27
1846 to 2769
44%
98%
+10
N/A
N/A
26
82
N/A
28
2046 to 3069
45%
100%
+11
N/A
N/A
27
84
N/A
28
2266 to 3399
46%
102%
+11
N/A
N/A
28
86
N/A
29
2509 to 3763
47%
104%
+11
N/A
N/A
29
88
N/A
30
2777 to 4165
48%
106%
+11
N/A
N/A
30
90
N/A
30
3072 to 4608
49%
108%
+11
N/A
N/A
31
91
N/A
30
3231 to 4846
50%
109%
+12
N/A
N/A
32
92
N/A
31
3397 to 5095
51%
110%
+12
N/A
N/A
33
93
N/A
31
3572 to 5358
52%
111%
+12
N/A
N/A
34
94
N/A
31
3755 to 5633
53%
112%
+12
N/A
N/A
35
95
N/A
31
3947 to 5921
54%
113%
+12
N/A
N/A
36
96
N/A
32
4149 to 6224
55%
114%
+13
N/A
N/A
37
97
N/A
32
4361 to 6542
56%
115%
+13
N/A
N/A
38
98
N/A
32
4583 to 6875
57%
116%
+13
N/A
N/A
39
99
N/A
33
4816 to 7224
58%
117%
+13
N/A
N/A
40
100
N/A
33
5061 to 7591
59%
118%
+13
N/A
N/A