Poacher's Mark
Projectile, Spell, AoE, Fire
Level: (1-3)
Cost: (35-61) Mana, 10 Life
Reservation: (77-99)% Mana
Cooldown Time: 0.50 sec
Can Store 1 Use(s)
Cast Time: 0.50 sec
Requires Level 45
Curses a single enemy, lowering their physical damage reduction, and adding physical damage to all hits against them. Attacking the cursed enemy will grant life and mana, and killing them will grant a frenzy charge. You can only have one Mark at a time.
Base duration is (7.4-11.8) seconds
-20% additional Physical Damage Reduction
Trigger this Skill when you Hit a Rare or Unique Enemy
Place into an item socket of the right colour to gain this skill. Right click to remove from a socket.


Acquisition
Area level: 5
Vendor Prices
Vendor Offer
1x Scroll Fragment
Metadata
Item class: Active Skill Gems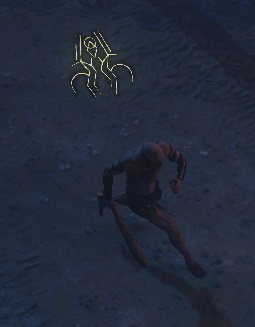 Level
Mana
Cost
Mana
Reservation
1
45
35
77%
2
54
40
88%
3
90
61
99%
Name
Poacher's Mark
Skill Id
PoachersMarkTriggeredtest
Icon
Cast Time
0.50 sec
Level Req.
(45-90)
Cost
(35-61) Mana, 10 Life
Reservation
(77-99)% Mana
Attack Speed
100% of base
Attack Damage
100% of base
Effectiveness of Added Damage
100%
Stored Uses
1
Cooldown
0.50 sec
Curses a single enemy, lowering their physical damage reduction, and adding physical damage to all hits against them. Attacking the cursed enemy will grant life and mana, and killing them will grant a frenzy charge. You can only have one Mark at a time.
Base duration is (7.4-11.8) seconds
-20% additional Physical Damage Reduction
Trigger this Skill when you Hit a Rare or Unique Enemy